Target marathon humps
Went out with a couple of guys on Tuesday and got met with some rough seas early but the world cat blasted thru.
Watching for birds, weeds, debris, or temp change – something that might hold mahi.  Passed by a couple floats but nobody home. One of them had a rope attached so we tossed out some cut bait trying to lure something out of the dark. No luck so back on track towards the humps.
We see birds working and put out some feathers as we approach. Doesn't take long and we have single and double hook ups. The sharks were all over the tuna as soon as they were hooked. We tried rig with a little wire but the tunas would not hit it. We tightened down the drags and managed get 6 BFTs, 3 nice ones. That was 6 for 20 and too many lost lures. With a bag of frozen minnows and pilchards we tried a couple of drifts. No crazy tuna schools attacking the bait on this trip. As the sun got high the bite slowed down.
Next target was to look for Mahi as we headed back north. Pass by what looked like a stump. Quick 180 while getting pitch rods ready for the Mahi mayhem. Not only was it not a stump, there was no fish. We retrieved the burlap bag full trash and got back on course.
Even from the tower there was nothing to be found. With a hour or so to spare we found a spot on the reef and dropped anchor. Wind was still blowing out of the south but there was no current. Start chumming anyway and slowly built some activity. YTs, mangos, sharks, and grouper provided some good action. With a nice-looking box of iced down fish, we headed to the dock. Cleaned and bagged the catch then fired up the grill.
It was nice to get out with a couple good guys and remind us why the keys are so great.
Today's tally: 6 BFT, 5 yellowtail, 2 mangos, 1 cero and a nice grouper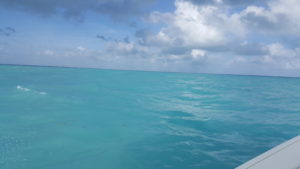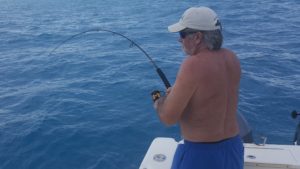 Another great day of fishing in Marathon