Back in the Keys for some more clean up, repairs and a couple days of fishing.
We went out to some rough seas but this where the world cat outperforms mono hull boats.
Waves were 6-8 and out of the south SE which made heading bumpy.  This was a ¾ day trip so we needed to find something fishy fast. Did not see any weed lines, no flying fish and very few birds. I picked and area with a ledge at 400' and trolled thru some scattered weeds. We finally got one on the deep bait. A mahi with no friends. Trolled this area some more before heading out deeper.  It was a long day of clearing lines and looking for some fish attractant. There was not much to be found other than a couple rain showers. Although the fishing was pretty slow we managed 3 dolphin, 3 barracudas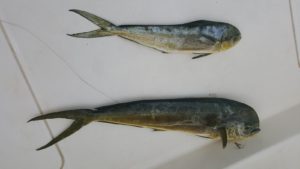 and 2 little skippys.
Another great day of fishing in Marathon