Grouper Opening Day – May 1st
Grouper season opener and the wind is blowing 15-20 but very manageable in the 32 World Cat.
This trip is all about getting a grouper so I had no other bait or gear.
On the way out I netted some mullets but the rest of the bait I would catch on the reef.
Got to the first spot and had to re-anchor a couple of times to get in right location. Dropped a mullet down while I set up the chicken rig bait pole. Bottom marking a few but not lit up. Bait is slow so I drop mullet down on another rig. Work this spot for a while and put couple grunts in the livewell.
After a couple of fish lost to the rocks I finally get one loose. Fought hard getting it off the bottom then was pretty easy – here is why
Green Eel – but biggest one I have caught
.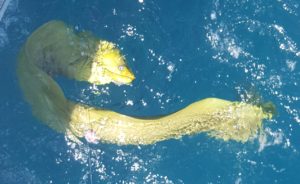 .
After 3 lost to the rocks, one cut off and one pulled hook the bite slowed so I headed for another spot. Tried 3 different areas with not much luck so back to the first spot. Got set up and sent the bait down. Bait rod was a little more productive this time and I put a few grunts in the livewell. Finally get hooked up and get his head turned away from the hole. Never know for sure until you see color it felt like a grouper but it could be a shark.  Get it to the surface and it is an opening day grouper.
I quickly get it in the boat and on ice.
It was a rough day and it took working several spots but paid off with a nice 32" black
Target acquired
.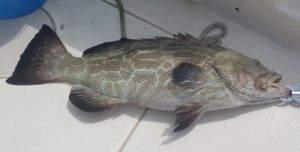 .
Great day of fishing in Marathon