Marathon Grouper – May 4th @ 2 for 2
Back out after a couple days at my other job. Only had a small window in the morning so I pointed the cat to a spot east of where I caught the last one. Got anchored up and only showing a few marks but I put down some bait anyway.  With only couple hours to fish I just brought some squid, 2 bottom rods and bait pole. First drop nets a small grunt and down it goes on the bottom rod. Had to take a phone call so I left the rod in the holder and it wasn't long and it bent over. Hung up and started cranking but could not gain much. Never felt like it was in the rocks but won't budge of the bottom, so I am thinking shark. After a hard battle that is what came up.
.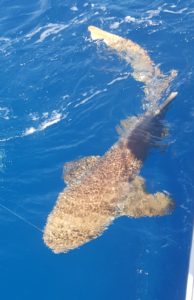 .
Go back to working the bait rod for few small grunts so I can put two rigs down.  After putting a couple in the livewell I reset the first bottom rod. Set up the second rod and put it in the holder. As I turn to the first rod the bait looks nervous and almost as soon as I grab it bends over. This one is pulling hard but I get its head turned and I am winning the battle.  Crank it up as quick as I can and up  pops a nice black. Today was much easier took about 40 min and a 27" grouper on ice.
.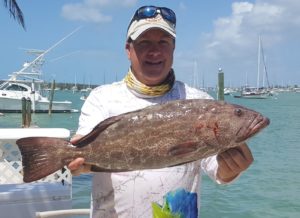 .
Great day of fishing in Marathon