Other work in the morning so I didn't get out till noon. Plan was to hit the reef for grouper and look for mahi while running to deep drop spot.  Got to fist spot and not much activity and no current. Work it for a little bit trying to get some bait. It was dead, so onto the next spot. Get a good anchor placement on the first try and a little more action on the sounder. Caught a couple baits and now ready to drop for the grouper. First one got rocked up but the second one I was able to get his head turned.
Cranked this sucker up as fast as I can and up pops another black. Stay and try for muttons but all I catch are 14-16" size. With a grouper in the box it is time to head for the deep drop but I can't get the anchor loose. Finally after messing with for 20 minutes it broke free. As I get out towards 600' there was lots of weeds and lots of boats. Bull and Cow tournament is this weekend and most of the fleet was out there. I run a patch of weeds for 30-40 minutes and pick up two small keepers. Getting late so off to the deep drop just a couple miles away. Make 3 passes and can't hold the bottom with the weight I had. The second drift I did get a good bite but did not stay on the hook. Next time I will bring a bigger weight.
They were not trophies but some good eating fish and 3 for 3 on groupers.
.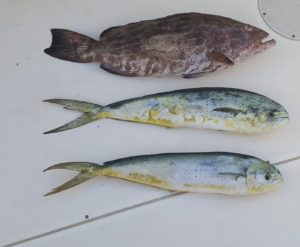 .
Great day of fishing in Marathon