Marathon Tile and Margate May 6
Sundays plan was to stop on the reef before heading out to deep drop. Tried a couple of spots but found little to no current on the reef. Even the grunts were not cooperating. Caught a couple of trunkfish which is hard to do on 4/0 hooks. Did get a good sized margate that went on ice.
.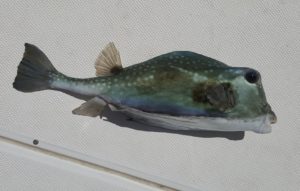 .
Pulled anchor and pointed the nose towards the south. This time I brought more weight to try for tile or snowy. Current was still ripping so it was hard to keep 8 lbs bouncing on the bottom. Finally on the fourth drift I keep the weight down long enough to hook up. Up comes one of the best eating fish in the ocean – a nice sized Blue Line Tile. Bait was whole and cut squid. With dinner in the box the ride back in was over some gin clear water on the reef.
.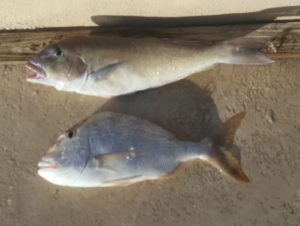 .
Great day of fishing in Marathon