Marathon 1st Tile – June 25
This was a 3/4 day, scouting for new snowy spots and getting someone their first tile fish. Started at the dock by netting a bunch of mullet then out SW of the light. Got to 650' and found a nice 5' ledge we could drift on. Nothing there and we tried this in a couple different areas but no snowy today. Now time to find some blue line tiles. Stopped in a new spot that looked good on the plotter. Did not take 10 min and Todd gets his first tile.
.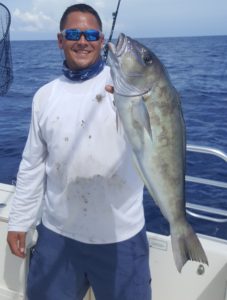 .
We repeat on a couple other spots and put 4 tiles in the box. Stop there because if we have enough time we are going to try the reef for grouper. Weeds were scattered and sparse but on the way in we find a weed line at 550 with a few birds working. Put out a jet head and a ballyhoo and trolled for a couple miles. Only stopped because of the birds but we got nothing. This did not leave much time for bottom fishing but we made a quick stop and got rocked up 3 times. No grouper be he got his first tile fish.
.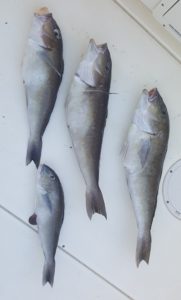 .
Great day of fishing in Marathon