Marathon Grouper, Tile and Mahi – June 12
Had some first timers down to the keys with no experience fishing. First day got a slow start and the storms forced us back to the dock. Plotter not working, won't communicate with GPS??
Rigged up my old 740 as a temporary fix. We got back out for a quick stop on sombrero reef. Zach is the first one in and a huge goliath, 300-400 lbs is waiting under the boat. I don't think he touched the steps as he flew back into the boat. After some reassurance they all got in and watched this huge grouper hang out under the boat. Made another attempt on the reef but not much action. Casey did catch a good sized rock hind and he loves to catch his dinner.
.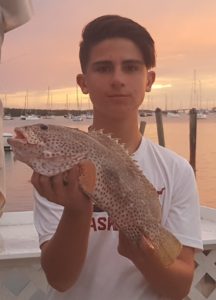 .
Tuesday looks much better and they want to try it all. Reef fishing, snorkeling, and offshore. Start on the reef with good current but not much action. Zach gets a big trunk fish to practice his angling skills.
.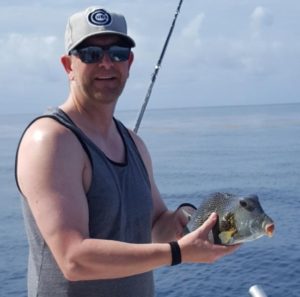 .
We work a couple areas but the bite is slow. Get set up on last spot before snorkeling, couple on chicken rigs and Casey on bottom rod. I am helping on the bow and hear "get the net". Casey has quietly brought up a nice 29" black grouper to the surface. This is the first one he landed without any help.
.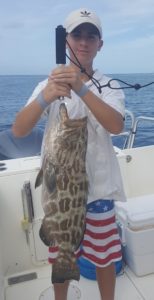 .
After a good time at Sombrero reef we head offshore looking for Mahi on the way to deep drop. Tons of weeds and no birds so we go straight to a tile spot. First location no luck, move 3-4 miles and try again. Get a big bite on the second drift and it is fighting most of the way up. First BLT in the box.
.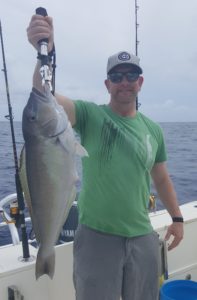 .
Drop again and this time I put a ballyhoo on the flat line. In no time the spinner goes off and we have a Mahi on. Zach has a little trouble with the reel but we get him boat side with friends following. This is where it gets crazy, I throw some cut bait and get the pitch rods ready. We pick off a couple keepers and release the shorts. Had one bigger one get cut-off on the deep line. After that nonstop action we do a couple more drifts and end up with 4 tiles. A lot packed into one day but they had fun and experienced what is great about the Keys.
.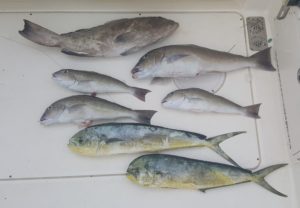 .
Great day of fishing in Marathon