Back from my other office, get in Sunday afternoon and got a couple hours to look for new deep drop spots.  Get fuel and ice and head out with a 2-3 hour window. Mainly looking for snowy, tile spots but I did bring one spinning outfit. Pass a lot of weeds out to 650 and one patch looks fishy. Throw out a triple D to see if anyone is home.  Doesn't take 2 minutes a I got a mahi on, it spits the hook but comes back and hooks up.  Get this insurance dinner in the box and off to the deep spots. First area I do a couple drifts with a solid hook up and it feels like a nice grouper but it gets off half way up.
Onto another area and the first pass bottom is looking good. After a 10 min drift I put a tile in the box. Make 3 more drifts, mark some good spots and get my limit of 3 tiles. Was a quick grocery trip but got some good eats.
.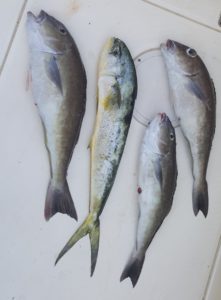 .
Great day of fishing in Marathon
.