Marathon Golden and Grouper
This was a 3/4 day, with fellow captain Harlan Trammell scouting for new snowy and golden spots.
First we drifted a new area for blue line tiles.  The bite was slow but we picked up a couple nice sized BLTs.
Now off to some deeper water to look for Golden Tile and maybe a snowy. We hit several areas in the 700 – 1000' range and found some good marks. Trying to get the tile first since you are only allowed one snowy per vessel. Drop the rig down 1000' and start our first drift. It doesn't take long and we are hooked up.  This is putting up a fight kinda like a grouper.  We steadily bring it up and get rewarded with a huge golden tile.
.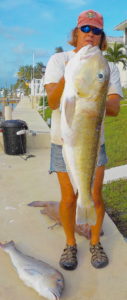 .
Finding new spots takes a lot of time but the rewards are good.  With tiles in the box we move over to a grouper spot. Get the rig set up and drop it down. On the second drift we are hooked into a huge snowy. This guy is trashing the drag on a fairly new reel. After a hard fight from 900' finally get this monster in the boat. Big snowy grouper.
.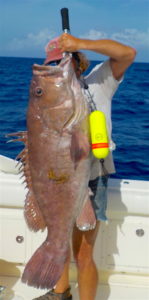 .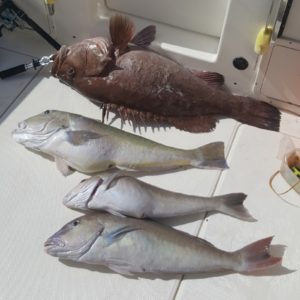 Great day of fishing in Marathon