Marathon, Lane, BLT and Triple tail
Got some friends coming down for the weekend to weekend mini season so I went out to do some more scouting.  Seas have been calm last couple of days but the current has been ripping. Made a stop on the reef after snorkeling at sombrero water was dirty and there was a hard east current. It took a 3lb weight in 90 to get a bait down. No takers on the live bait but the boys keep busy with grunts, porgies and Casey caught this 17" Lane.
.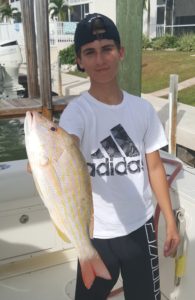 .
I did some prospecting for snowy and tiles but it was hard to keep a 10lb weight in the zone. Checked out several areas and worked hard to get 3 small blue line tiles.
.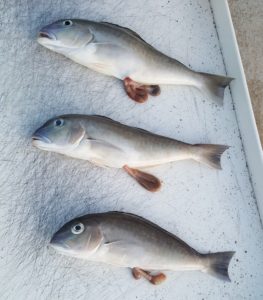 .
Small phins were out around 700' in scattered weeds and no birds. With the freezer full we did not play with the schoolies. Our focus was on finding new tile and snowy spots. On the way in we came across a floater with jacks and triple tail. Managed to get 4 in the boat and kept 2 nice ones.
No monsters but made for some great grilling.
.

.
Great day of fishing in Marathon