September Mahi, BFT and Sail
Made a afternoon trip to try a new swordfish rig and to catch dinner. Seas were calm and we saw plenty of weeds on the way out.  Stopped at some birds with no weeds trying to pick up some tuna.  Looking for BFT or bonita for bait.  Got a few black fins and one bonita.  Stopped at a weed line in 650 and got a Mahi pretty quicky. With enough for dinner headed south to the sword grounds. Had enough time to make 3 drifts had one bite no hook-ups.  Lots of weeds from 650'-1000'
.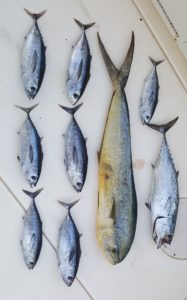 .
Saturday had some from a wedding party and most of them have never been offshore before.  Goal was to find action cause only one person could take a limited quantity home with them.  Pointed the cat south looking for signs and found a nice weedline forming in 450'. We trolled by and picked up a couple of schoolies. Went to next patch and same thing couple small ones. Next we drifted by a patch chunking bait and catching jacks. As we kept dropping baits a couple dolphin swam up and we got a couple more hook ups with one big enough to keep.
Next was to run a little further and try to find something bigger. Saw a lot of bird activity in 650' so I put out the spread. Did not take long and we have a black fin hooked up. Next run rookie on the rod and he doesn't get the BFT in fast enough and a shark inhales it. Now he is hooked up with an 8-10' shark and it doesn't cut the line until after a 20 minute fight.
.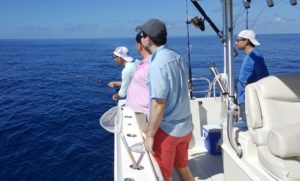 .
We made a quick stop on the reef but with no current the fishing was slow, grunts and small YT. We did get a big grouper on but he rocked us up. Also had a 10 min tug of war with what seemed like a big shark.  A lot of action for a half day and a few sore arms.
.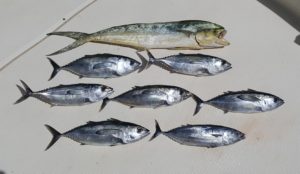 .
Sunday's plan was to hit some weedlines in 650-1000 looking for bigger fish. Found a nice patch at 680 so lines in and it was not long before fish on. First one was a keeper but released we are looking for 30"+.  After a couple more 22-24" we head south to 800 and another nice weedline forming. Get set up and it doesn't take long and we have a double hook up. These were nice gaffers so into the box and troll on. Spread consist of jet head, 1 feather, 1 chugger head and 1 weighted hoo with skirt.
This pass we had to clear a few more weeds but the work pays off with another double hook up. Another good sized mahi jumps and the second is off – then back on, then off – on the third bite it stuck hard.  We get the mahi to the boat, another nice gaffer but the second fish is being stubborn and has not jumped yet.  He is putting up a good fight and pulling drag on the 30 wide.
.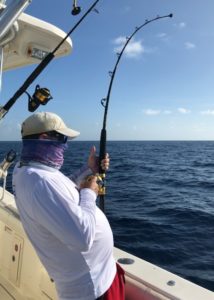 .
Keep working it closer and closer but no jumping until it gets about 30' from the boat and goes crazy.
We have a large sailfish on.
.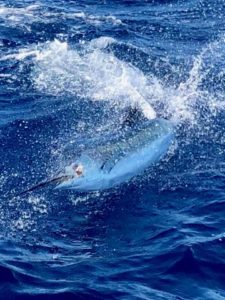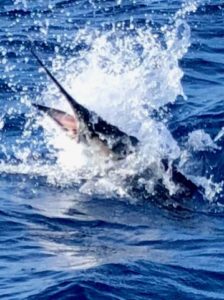 .
This guy did not want to come into the boat, but we finally prevail and get him in for a quick pic. I put the cat in gear and we pull the sail into the current until he is trashing and swims away.
.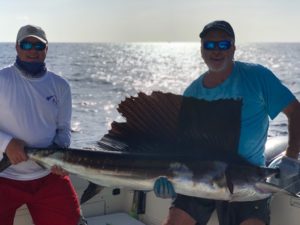 ,
With our weedline breaking up we headed further south and find a nice patch in 1000'.  Got the spread back out and in no time have a double hook up. A good size bull jumps and the fight is on. The cow goes in the box first while Todd tries to wear down the bull. He puts up a good fight, but we finally get him on the gaff and in the box.
.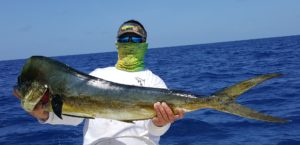 .
We continued to pick off one at a time and only keeping the bigger ones. With 15 in the box and all but one 30+ we got enough time to make one or two drifts over the sword grounds. Make a couple drifts with one bite no hook ups but we did find a nice canyon for next time.
.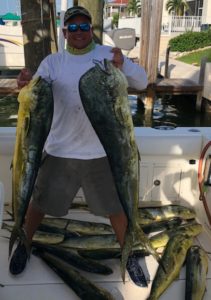 .
Monday was a short day and we set out to make a couple drifts for swords.  We passed some weeds in 800 that we would hit on the way back in. Passed in front of this carrier on the way out and while trolling mid-day they came beside us. Sadly, we later heard that one sailor was killed on this training mission.
.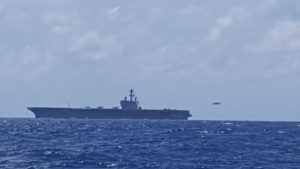 .
Set up on the sword area and made 3 drifts. No hook ups but 1 bite and marked a good ledge that was not on the map. Did pull in one small mahi while drifting but the weeds were scattered causing constant line clearing.  With it being a short day we wanted to go back and hit those weeds in 800'.
Trolled skirted hoo, a feather and little chugger. Ran into some decent action in 800 and 650. With plenty in the freezer we only keep two for a fresh dinner. Off to other work – back in two weeks.
.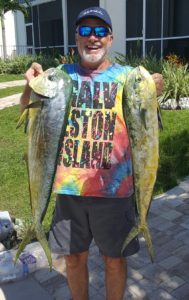 .
Great day of fishing in Marathon